One of the UK's leading hotel brands
Founded in 1985, Travelodge is the second largest hotel brand in the UK based on number of hotels and number of rooms operated.  We lease, franchise, manage and own over 540 hotels and more than 40,000 rooms throughout the UK, Spain and Ireland.
As of 31st December 2016, we operated 40,847 rooms in 543 hotels under the Travelodge brand, with our largest market the UK representing 99% of our total revenue with 98% of rooms operated as leasehold, 5 leasehold hotels in Spain and 12 hotels operated under franchise in Ireland and Northern Ireland.
We operate in the attractive midscale and economy sector of the hotel market (as defined by independent industry research provider Smith Travel Research) and are positioned as a low cost operator, offering standardised, modern guest rooms at affordable prices to both business and leisure customers.  We have high brand recognition among the UK population driven by our long-standing market presence, wide geographic network and effective national marketing initiatives.
We estimate that we attracted almost 18 million customers every year with approximately 90% of our bookings made through our direct channels.  We employ approximately 10,000 people across our hotels and support offices, the majority of whom work in our hotels on hourly paid contracts with flexible hours of work.
Operational Highlights
Travelodge welcomes approximately 18m customers every year
Upgraded hotels and great service driving average TripAdvisor scores of 4 stars
Food & beverage sales up 14% driven by the upgraded food and beverage offer
19 new hotels opened in 2016 and approximately 15 new hotels expected to open in 2017
Continued acceleration of new development pipeline
The Travelodge brand has a range of hotel designs including: purpose built hotels, grade ll listed buildings, office conversions, acquisitions of existing hotels and co-partnerships with leading pub companies, supermarkets and retailers.
Investing in the brand
Our £100m UK hotel modernisation programme was concluded on the 18th December 2015.  This marked the culmination of a three-year programme, in which almost 35,000 rooms with our new more contemporary look and feel and the new Travelodge Dreamer king-sized beds.  As a result, every Travelodge hotel now offers a consistent quality room experience to our guests, updated for the needs of modern travellers.
A key part of the investment is a brand new room, which has been created by Travelodge customers and includes the following new features: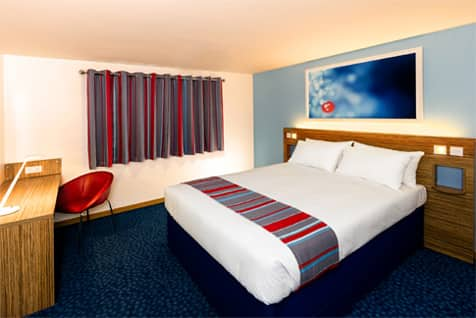 An upgraded new luxury king size bed (The Travelodge Dreamer) which is deemed in the industry as the 'Rolls Royce' of beds and is used predominately by luxury hotels worldwide. The bed is produced by royal warrant holders Sleepeezee Ltd who are renowned internationally for their experience and craftsmanship in producing the most luxurious beds that money can buy.
People
Travelodge employs over 10,000 staff in the UK, Ireland and Spain, and it is every one of these people that make the company unique.
In April 2016 Travelodge launched its inspirational hotel career development programme ASPIRE.  Whatever our employees career aspirations, we can provide them with the structured training and development they need; as well as the opportunity to achieve a recognised diploma.  For our team members who want to develop in their current role they can opt for our Discoverer career path; for those who want to develop into their first Line Manager position they can apply to be a Traveller and for our already successful Managers who want to further develop themselves we have our Adventurer pathway.